All Events
Fabricating Love And Other States
March 10, 2021 11:00 am - May 10, 2021 6:00 pm
WORKSHOP: LOVE AND LYRE | 23 MARCH 2021 TO 26 MARCH 2021
Conflictorium conducted a 4-day workshop around the thematic ' Fabricating Love and Other States'. The name of the workshop was ' Love And Lyre'. It was based on love and poetry. As much as the lovers have taken to poetry as a medium of expression, the poets and writers have often sought the thrust of love to render their works of art. Love and Lyre workshop inquires this association between the 'experience-of-love' and the 'expression-of-poetry'.
FACILITATED BY: CONFLICTORIUM
INSTAGRAM TAKEOVER BY SWETA MANTRII | 27 MARCH 2021 AND 28 MARCH 2021
Sweta is an MBA turned writer and disability inclusion enabler who stumbled upon comedy quite accidentally; just like the other things that she stumbles upon while walking. Through her endeavours, Sweta aims to construct accessibility and initiate inclusion in people's buildings, minds, and lives. Sweta curated extremely important and often invisibilised conversations at the intersection of Desire, Gender and Disability.
INSTAGRAM TAKEOVER BY JYOTSNA SIDDHARTH | 13 APRIL 2021 AND 14 APRIL 2021
Jyotsna is an actor, writer and activist, who founded Project Anti Caste Love, an initiative to promote unique narratives around inter-caste/inter-religious love and relationships. They are working as an India Lead for Gender At Work. Their work entails strengthening programmatic, strategic, administrative and substantive inputs for the institutional building and change.
WORKSHOP: LOVE AND LEGISLATION | 27 APRIL 2021 TO 30 APRIL 2021
Do lovers purposely seek boundaries to prove that love goes beyond all bounds? While societies are built upon a set of laws, rules and legislation which are purported to protect the welfare of the individuals, the aspiration of individual lovers often seems to contradict the prevalent laws.
The workshop inquired this conflict between love and laws; highlighting the fundamental dichotomy between what is projected as 'right thing to do' in contrast with 'what one seeks to do'.
FACILITATED BY: CONFLICTORIUM
FILM SCREENING AND DISCUSSION: SABARMATI AND ITS LOVERS | 23 MAY 2021 
Conflictorium screened a film – 'Sabarmati and its Lovers', a short film that investigates the role/s of Ahmedabad's Riverfront project as rhetoric, site and tool for loving and policing love in this city. It was produced on the thematic 'Fabricating Love and other States'
FILM SCREENING AND DISCUSSION: THE SONG WE SANG | 18 JUNE 2021
Conflictorium virtually screened a film ' The Song We Sang' by Green Chutney Films and followed by a conversation with the team behind the film. The film revolves around a night, two strangers, a chance encounter and a night full of possibilities. Krishna and Alia meet on a Navratri night and wander the city of Ahmedabad finding love and warmth.
PRODUCED BY: CONFLCITORIUM
SOURCE: CONFLICTORIUM ARCHIVES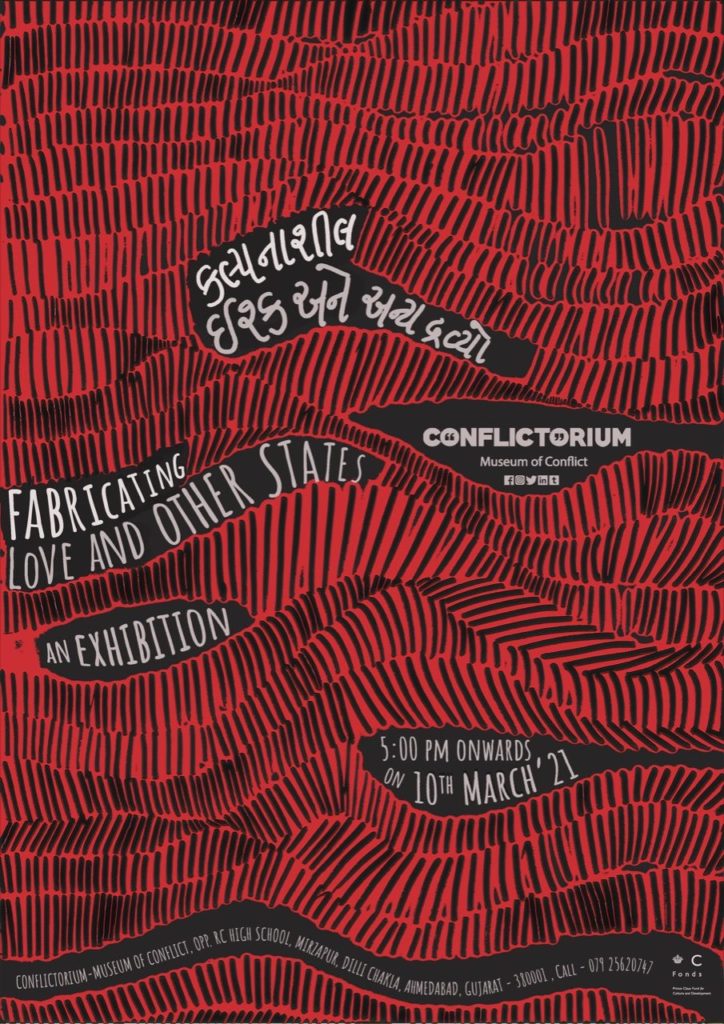 Conflictorium created an exhibition around the thematic 'Fabricating Love And Other States' titled 'Fabricating Love And Other States'.
What if we don't mind what food the person next to us eats and, maybe, even, share a plate with them? What if we don't see the colour of each other's skins and still share our most intimate moments of happiness and pain with each other? What if we could share the blunders of our different professions and giggle at our mistakes without being ashamed? What if we could excitedly share with each other the spectacular little things we discovered while brushing our teeth or pondering in the washroom? What if we are surrounded by people and still comfortable within our own bodies?
These were only some of the inquiries we wanted to make in this thematic, the primary intention being the stimulation of a society that is willing and allowed to love in abundance despite and within the overarching socio-cultural apprehensions. What is to live if not to love? and what does this life of love look like? How do we keep building it?
It was an attempt to ask questions on what it means to live a life of unbridled affection, empathy, joys, desires and community.
Curated By : Conflictorium
Details
Start
March 10, 2021 11:00 am
End
May 10, 2021 6:00 pm